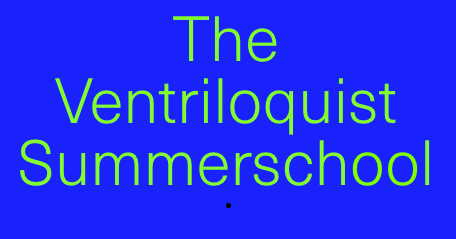 The Ventriloquist Summerschool er et sommerskoleprogram lignende Rogaland Kunstsenter, og i år er de en del av fakultetet ved vårt Independent Study Program. Skolen er grunnlagt av Kristina Ketola Bore João Doria som begge kommer til å være ved programmet en uke. 
"Through The Ventriloquist Summerschool we have induced a discussion about the role of voice, discourse and accountability in artistic practices. These were issues that we saw as lacking in our local setting, and through engaging with them we have created a network of people interested in similar topics. Yet we have also opened up for learning from each other and concerning ourselves with ideas that might not be part of our own practice. In this talk we'll create a setting in which we hope to talk and listen in equal parts. It will be a chance to discuss topics that aren't part of the summer school's practices, and we'll do so through engaging with some of the methods we deployed so far in both the summer school and with TVSS as a platform."
Kristina Ketola Bore is a design critic, editor and educator based in Oslo, Norway. She holds an MA in Design Writing Criticism from the London College of Communication and a BA in Fashion Journalism. Since graduation she has contributed to magazines and journals such as Domus, Dagens Næringsliv, Arkitektur N and Aftenposten K on the subjects of art, architecture and design. Kristina also lectures in Graphic Design History and Theory at the Oslo National Academy of the Arts and is a guest lecturer and external examiner at the Estonian Academy of the Arts.
Her work investigates the performative aspects of critique and looks into questions concerning social infrastructures within and outside of design, in addition to participation and the role intersectionality and feminisms can play in the field of design. She has spoken nationally and internationally on subjects of critical thinking and feminisms in design. Together with João Doria she co-organises The Ventriloquist summer school — a school and platform that seeks to invoke discussions about the role of voice, discourse and accountability in artistic practices. As a curator, she has organised shows on typography and art history. In addition to her practice as a writer and critic she is also a co-editor of the Norwegian art journal, Periskop.
João Doria is a polymath wannabe. His work is cantered around the act of multi-channeling, drawing knowledge from fields such as digital projection, filmmaking, architecture and installation art from a (graphic) designerly perspective. This investigation has taken the form of serial publishing (posters and publications) and situation-making (workshops, talks and performances) in collaboration with professionals and institutions inside and outside the realms of art and design.
He received an MFA from the Yale School of Art in 2014 and co-founded The Ventriloquist Summer School with Kristina Ketola Bore. He is currently a guest lecturer in Norway at Westerdals ACT Graphic Design BA, Kunsthøgskolen i Oslo's MA Design, The Oslo School of Architecture and Design 2M. Arch., CalArts' BFA/MFA Graphic Design and VCUArts' MFA Graphic Design Affiliate Graduate Faculty member.